Report of the 4th QSC Junior Day by Arjan Cornelissen.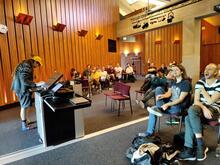 During the 4th QSC Junior Day we had a variety of talks, before lunch first by Tom O'Brien about quantum research performed at Google, then by Ronald Hansen about Quantum Delta NL.
The 4th QSC junior day got off to a great start for me, since it was the first time it was hosted super close to my home, so I could stay in bed a little bit longer than usual. ;)
After lunch, we got to know how to apply for NWO funding through a talk by Tom van Rens, and we received a humoristic overview of the quirks of scientific literature by none other than the one and only Fool Prof. Crackpotus Notorius. On top of that, we also had the pleasure to go on lab tours through the labs of QuTech.

For me, as a theorist, it was very nice to see the experimental side of quantum computing, and it certainly gave me a better understanding of what building a quantum computer actually entails.
The event was hosted at the Delft University of Technology, and we managed to find some time throughout the day to see and enjoy some of its campus.
After the event, we had a couple of beers outside of the aula, before going into the old city center with a fairly large group. We ended the day with a well-deserved beer on the cozy Beestenmarkt.
Looking forward to the next edition of the QSC Junior Day!

Arjan Cornelissen,
4th-year PhD student at QuSoft, Amsterdam.