Prof. dr. Gilles Brassard, current Turing Chair for Quantum Software, wins the world's largest science prize.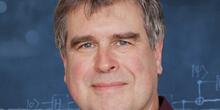 Professor Brassard is best known for his fundamental work in quantum cryptography, quantum
teleportation, quantum entanglement distillation, quantum pseudo-telepathy, and the classical simulation of quantum entanglement. Some of the concepts he derived, have since then been implemented in the laboratory.
In 1984, together with Charles H. Bennett, he invented the 'BB84' protocol for quantum cryptography. This is generally considered the first quantum cryptography protocol. He later extended this work to include the Cascade error correction protocol, which performs efficient detection and correction of noise caused by eavesdropping on quantum cryptographic signals. These type of protocols are used nowadays for sharing public keys in a quantum secure way, in so called 'Quantum Key Distribution' (QKD) schemes.
Prizes and Awards
Professor Brassard was the editor-in-chief of the Journal of Cryptology from 1991 to 1998. In 2000, he won the Prix Marie-Victorin, the highest scientific award of the government of Quebec. He was elected as a Fellow of the International Association for Cryptologic Research in 2006, the first Canadian to be so
honored. In June 2010, he was awarded the Gerhard Herzberg Canada Gold Medal, Canada's highest
scientific honour. Professor Brassard was elected a Fellow of the Royal Society of Canada and the Royal
Society of London (2013).
On December 30, 2013 the Governor-General of Canada, the Right Honourable David Johnston, announced that Gilles Brassard has been named as an Officer in the Order Of Canada. In 2018 he received the Wolf Prize in Physics and in 2019 the BBVA Foundation Frontiers of Knowledge Award in Basic Sciences.
About his presence in The Netherlands
Besides laying the foundation for the research field many researchers within QuSoft are working on, Gilles Brassard has been involved in QuSoft from its inception in 2015. Brassard is hosted at QuSoft at NWO institute CWI and also part of QuSoft's Scientific Advisory Board. He is a welcome and frequent guest of QuSoft and was key lecturer during the opening of QuSoft.
Prof Brassard's first term as "Turing Chair for Quantum Software" was between December 2020 and May 2021. His most recent talk in the Netherlands was at the 7th General Assembly of the Quantum Software Consortium (QSC).
About The Breakthrough Prize
For the eleventh year, the Breakthrough Prize, renowned as the "Oscars of Science," recognizes the world's top scientists. Each prize is $3 million and presented in the fields of Life Sciences, Fundamental Physics and Mathematics. In addition, up to three New Horizons in Physics Prizes, up to three New Horizons in Mathematics Prizes and up to three Maryam Mirzakhani New Frontiers Prizes are given out to early-career researchers each year. Laureates attend a gala award ceremony designed to celebrate their achievements and inspire the next generation of scientists. As part of the ceremony schedule, they also engage in a program of lectures and discussions.
The Breakthrough Prizes were founded by Sergey Brin, Priscilla Chan and Mark Zuckerberg, Julia and Yuri Milner, and Anne Wojcicki and have been sponsored by foundations established by them. Selection Committees composed of previous Breakthrough Prize laureates in each field choose the winners. Information on the Breakthrough Prize is available at breakthroughprize.org.